Volunteering & Internships

WNYMuslims offers internships for both academic credit and non-academic credit and volunteer hours for students who have required service learning requirements. We work closely with all our volunteers and interns on individual and group projects. If you have passion to learn, we will do our best to develop an enriching experience.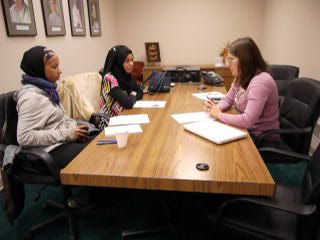 Internship for Academic Credit
Internships require a weekly committment of 15-20 hours. We have worked closely with many students and departments of local universities and colleges. Internship positions include but are not limited to:
PR/Marketing
Graphic Design
Media Production
Journalism
Internship for Non-Academic Credit
Paid Volunteer Opportunities
Volunteer Service Hours
Students who need to fulfill service hours for their high school/university are welcome to contact us and see what opportunities are available. In the past service hour volunteers have helped with planning of events, marketing and production.
If interested please fill out our application by
clicking here
and e-mail it to
wnym@wnymuslims.org
or fax it to 716-931-5855.
What we are looking for?
PR/Marketing
Every organization must have a presence on social media website such as facebook and twitter and we always look to increase our marketing online. We also need to actively engage the community and send out press releases and visit community centers, schools and mosques.
Writing/Journalim
Graphic Design
Media Production

Event Journalist
There are a lot of events in the community that we need an extra hand in getting photos or video and writing articles on. We may need you to interview participants or speakers from the event.
Newscast Editor
WNYMuslims started a weekly newscast and need help in creating and editing the script along with organizing images and videos with proper credits for post-production.
News Anchor
We would like to have a co-anchor to our weekly newscast so if you want to be on camera, here is your shining moment.
Writers
We are working on improving our website and weekly newsletter. If you like to write we would like to add what you want to say.